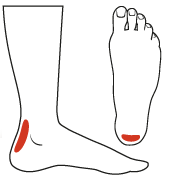 Achilles Tendonitis
Overview
Achilles tendonitis is commonly seen in athletes who sustain an increase in training load, and is most often due to overuse. Tendons respond poorly to overuse, therefore healing is slow. This can leave a tendon pathologically defective, which decreases tendon strength and leaves it less able to tolerate load, thus vulnerable to further injury or tendinosis. Extrinsic factors contributing to this condition include training errors and inappropriate footwear. Intrinsic factors include inflexibility, weakness and malalignment. In other situations, there will be clinical inflammation, but objective pathologic evidence for cellular inflammation is lacking, and in these conditions the term tendinosis is more appropriate. Tendinosis is a degeneration of the tendon?s collagen in response to chronic overuse; when overuse is continued without giving the tendon time to heal and rest, such as with repetitive strain injury, tendinosis results. Even tiny movements, such as clicking a mouse, can cause tendinosis, when done repeatedly.
Causes
Achilles tendonitis is aggravated by activities that repeatedly stress the tendon, causing inflammation. In some cases even prolonged periods of standing can cause symptoms. In many people who have developed achilles tendonitis, chronic shortening of the gastroc-soleus muscle complex is the reason that home remedies and anti-inflammatory medications fail. In these instances the muscle itself becomes shortened and creates a constant stress at the tendon?s attachment. Like a green branch that is slowly bent, eventually it begins to breakdown. Over a prolonged period the tendon becomes inflamed, and in the worst cases, appears swollen and thickened. In certain circumstances attempts to heal have failed and the body?s inability to heal the tissue results in degenerative changes known as achilles tendonosis. Anti-inflammatory medication, stretching and ice may only provide temporary relief, because they address the inflammation but not the root cause.
Symptoms
Achilles tendonitis and tendinopathy present as pain in the Achilles tendon, usually several centimeters above where it inserts on the heel. In some patients, pain and tendon damage are primarily at the insertion to the heel bone. There may be swelling and/or thickening of the tendon. Bending at the ankle, walking, jumping, and running are often painful with this condition.
Diagnosis
Your physiotherapist or sports doctor can usually confirm the diagnosis of Achilles tendonitis in the clinic. They will base their diagnosis on your history, symptom behaviour and clinical tests. Achilles tendons will often have a painful and prominent lump within the tendon. Further investigations include US scan or MRI. X-rays are of little use in the diagnosis.
Nonsurgical Treatment
There are a variety of treatments for Achilles tendonitis. These range from rest and aspirin to steroid injections and surgery. Your doctor might suggest, reducing your physical activity, stretching and strengthening the calf muscles, switching to a different, less strenuous sport, icing the area after exercise or when in pain, raising your foot to decrease swelling, wearing a brace or compressive elastic bandage to prevent heel movement, undergoing physical therapy, taking anti-inflammatory medication (e.g., aspirin or ibuprofen) for a limited time, getting steroid injections, Sometimes more conservative treatments are not effective. In these cases, surgery may be necessary to repair the Achilles tendon. If the condition intensifies and is left untreated, there?s a greater risk of an Achilles rupture. This can cause sharp pain in the heel area.
Surgical Treatment
Many people don't realize that Achilles tendon surgery can be very traumatic to your body. The type of trauma you experience after surgery can be compared to what you go through when you first injured your Achilles tendon. During the first 24 to 72 hours after the surgery your ankle will be tender, swollen and very painful. Your leg will be weak and unstable making it impossible for you to put weight on your leg without some kind of help. This is why your doctor or surgeon will have you outfitted for a cast, ankle brace and/or crutches before the procedure. When you are relying on a cast/brace and crutches your Achilles tendon is less likely to be as active as it once was. This is usually why atrophy (loss) of your lower leg muscles (specifically your calf muscle) happens. In general, more than 80%* of people who undergo surgery for an injured Achilles Tendon are able to return to their active lifestyle. In order to avoid re-injury, it is important to commit to a regular conservative therapy routine.
Prevention
Although Achilles tendinitis cannot be completely prevented, the risk of developing it can be lowered. Being aware of the possible causes does help, but the risk can be greatly reduced by taking the following precautions. Getting a variety of exercise – alternating between high-impact exercises (e.g. running) and low-impact exercise (e.g. swimming) can help, as it means there are days when the Achilles tendon is under less tension. Limit certain exercises – doing too much hill running, for example, can put excessive strain on the Achilles tendon. Wearing the correct shoes and replacing them when worn – making sure they support the arch and protect the heel will create less tension in the tendon. Using arch supports inside the shoe, if the shoe is in good condition but doesn't provide the required arch support this is a cheaper (and possibly more effective) alternative to replacing the shoe completely. Stretching, doing this before and after exercising helps to keep the Achilles tendon flexible, which means less chance of tendinitis developing. There is no harm in stretching every day (even on days of rest), as this will only further improve flexibility. Gradually increasing the intensity of a workout – Achilles tendinitis can occur when the tendon is suddenly put under too much strain, warming up and increasing the level of activity gradually gives your muscles time to loosen up and puts less pressure on the tendon.